As you probably know, I love to read. Lately, I've been able to do it a little more than normal... don't ask me how. Sometimes I read in the middle of the night when I'm feeding Jonas, but mostly I've been reading because Mau got a new video game. So, here's a list of the last 5 books I've read:
Hush, Hush by Becca Fitzpatrick
I LOVE Young Adult Fiction. It's always fun, easy to read, fast moving and a little too dramatic. This book was somewhat predictable, but still a lot of fun. If you liked Twilight, you might enjoy it. The main beau is "the bad boy Edward wishes he was". It's the first in a series, and I'll be reading the second, "Crescendo", soon.
A Prayer for Owen Meany by John Irving
This book took me WAY. TOO. LONG to finish. I started it in May and kept picking it up and putting it back down until I finally finished it in October. This book was recommended to me by my dad, so I definitely wanted to read it and see what he saw in it. He truly enjoyed it... but he didn't "read" it... he listened to it and enjoyed it much more than I did. That said, I thought that the main idea and conclusion of the book were amazing... truly brilliant. However, it just took forever to get to the point. There was a lot of fluff... you know, information that doesn't truly add to the plot but is only there to take up space. I felt like Irving could have accomplished the same goal in HALF the pages. His writing style is extreemely descriptive with minimal dialogue, which I find to be exhausting to read. After 10 pages I was physically tired of reading. Needless to say, it's not a real page turner.
Her Fearful Symmetry by Audrey Niffenegger
This is the same author that wrote the famous, "Time Traveler's Wife". I picked this one up because I loved that one. However, this one did not live up to Niffenegger's reputation. The story was strange and he conclusion was completely disappointing. I wouldn't recommend it.
Carpe Demon- Adventures of a Demon-Hunting Soccer Mom by Julie Kenner
I read this book after reading a review off of
This Blog
, and I LOVED it! This book was so fun, light and silly. Think, Buffy the Vampire Slayer all grown up with kids, a husband and a house. It's great! This book truly is laugh-out-loud funny. I could totally relate to her... well, the having a toddler part, not the kicking demon @ss part. Still, great fun!
The Understudy by David Nicholls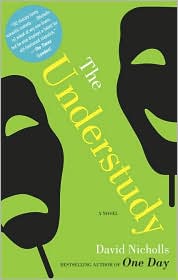 I actually won this book from a
GoodReads
Giveaway. Yay for winning! But unfortunately I didn't like this book. The only redeeming quality was that the writing was really good. I wasn't interested in the characters... thought they were all shallow and people I would not want to know. I will be giving this author another shot, though... maybe this story was just off.