I decided to link up with
From Mrs to Mama
for her weekly segment of Seriously?! Thursday. I've been reading her blog and a few others that are linked to hers for over a week now, and I'm really enjoying it... so check it out. She's sort of famous (or at least more than me) on the blogisphere and I'm kinda jealous! This is only the second blog link up I've done, but it seems like a fun way to share.
So here we go...
Seriously?! What is up with Jonas still not sleeping through the night? Seriously, he's 10 months old. Even considering the premie curve, he'd be 8 months which is still plenty of time for him to be sleeping through the night already. I'm getting awfully tired of dealing with 2 am wake up calls. Last night was a free for all and we were ALL awake from 2:30-4. Seriously ridiculous.
Seriously?! I have a confession to make... I like Yo Gabba Gabba. At first, I found it to be terribly annoying, with the songs that stick like glue. But little by little I found it to be clever and charming... with a hipster flare to it. Now I find myself singing, "clean it up, clean it up" or "hands to yourself, keep your hands to yourself"... not just to Marco, but also while I'm alone. Yeah, I'm hanging my head in shame.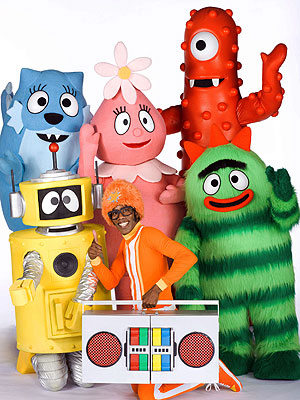 Seriously?! We're due to leave on Sunday and we still have SO MUCH packing left to do. And, seriously, I have NO desire to do it! In fact, I only packed ONE box yesterday... and I patted myself on the back for it. Mauricio has me totally spoiled. I seriously need a reality check.
Seriously?! Are all my blog posts going to be me yapping from now on? I know, I haven't given you, my faithful followers, even a taste of the cuteness I experience on a minute-by-minute basis. And, I promise I'll be more diligent about posting pictures. But lately, every time I pull out the camera or phone, Marco tries to take control, which always leads to blurry movements or ugly cry face pictures. I'll do my best... pinky promise!
That's all I got for y'all today. I'm really gonna have to tone down the "y'all" when I move to Miami. Bloggers, go and link up today to share all your Seriously?! moments.