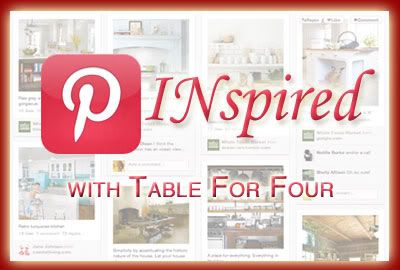 When I open up my computer, I automatically open up 5 tabs at once... Gmail, Facebook, Twitter, Blogger and now... PINTEREST. This Pinterest obsession has hit us all hard, has it not? But a while ago, I started actually trying some of the things I've pinned... and so was born my PINspired series.
If you follow here, you have seen my PINspired series every so often (
here
,
here
, and
here
to name a few). And after having some interest in doing a link-up, I whipped up this button (
ok, really I worked on it for hours of frustration)
and decided to give it a go.
For those of you newbies, the PINspired series is not just about showing us your favorite pins, but ALSO about showing us which ones you've tackled yourself. Show off your accomplishments. Help us weed out what's really good and what just looks good.
So, regardless of whether you've been inspired by recipes, styles, redesigns, organization or parenting tips, we want to know how it turned out. Inspire us with your pins! Tell us if those recipes are a must try or a not-so-good. Tell us if that craft is ridiculously difficult or easy peasy. Tell us if that cleaning tip really worked or if it's a pass. We want to know! We want to be PINspired!
This link-up will be held on the LAST Thursday of every MONTH. It's best if you prepare the post as you go, adding to it throughout the month and then publishing it for the link-up, that way it's not overwhelming. Are you in?!
Grab a Button
Spread the Word
PINspire us!!
First link-up
JUNE 28!
Dates till the end of the year:
July 26
August 30
September 27
October 25
November 29
December 27