Saturday again, people. Yay!
1. This morning, I'm actually being very productive. I was asked to substitute at work today, so I have a full day! I'm teaching lessons from 9-2:30! Driving to work today was NOT a waste of time and money, can you believe it?! So happy!
2. Yesterday I booked a vacation... on a whim. My in-laws are part of the Wyndham resort time share program and they are ALWAYS calling. Usually I don't answer, but yesterday, for whatever reason, I did. They were offering a vacation, with guests at an incredible price. Yes, we have to sit through a session, but Mauricio can say "no" to anyone when it comes to money. Here's what we got... get ready to die. 4 days/3 nights, 2 rooms, 4 Disney park tickets and a $50 American Express gift card... all for... wait for it... $200. Did you get that?! $200 for ALL of that! And the resort? Ahhh-mazing. It's a 5 star, brand spankin' new resort. The
Wyndham Grand at Bonnet Creek
. I'm dying. Dying. I Can.Not.Wait.
3. My amazingly talented cousin is a woman of all trades. She has a yummy skin product line called
Skin Candy
. All her products are completely 100% natural and organic... and delicious. For Valentines Day, she's promoting
these heart shaped soaps
that smell like cinnamon and clove. Best part? A portion of the proceeds go to the Children's Cancer Research Organization! It's only $5 for 3 soaps. Great deal, great price, great product! Buy it!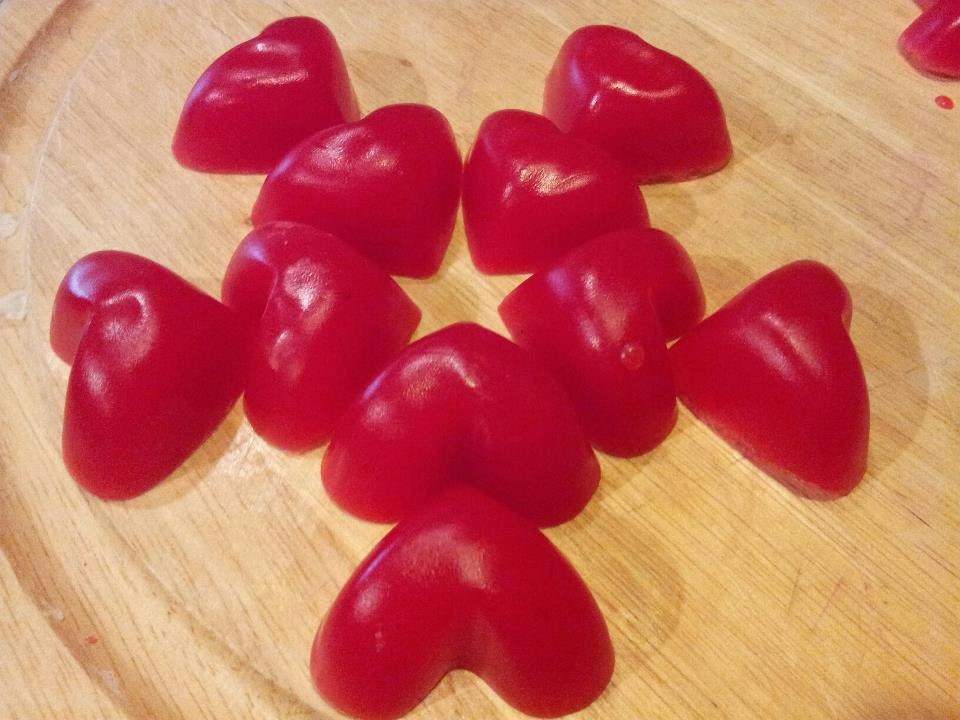 4. I'm reading Under the Dome by Stephen King. And it's long. Really long. Like over 1000 pages, long. I'm not sure if I want to read it. It's uncomfortable to hold. And I think I'm going to fall behind on my challenge if I take the time to read this thing. Even though it's the length of 3 books, it only counts as 1. Then one of my booky friends told me she read it and only gave it 3 stars... so now I don't know if it's worth it. Have you read it? What are your thoughts?
5. 2012 is going to be a BIG BABY year! So many pregnant women, OMG. Already, 4 people I'm close to are pregnant... not to mention all the blog mama's I "know" and acquaintances. This is the year, people. All the cool kids are doing it... literally. haha. And me? So happy to hold everyone else's newborns... and hand them back.
6. I went to the dentist this week for the first time in a long time. I'm embarrassed by how long it's been... ahem.2years.ahem. And, I also got Mauricio to go! If it's been long for me, you don't even want to KNOW how long it's been for him. I'll reserve his privacy and not tell you. And I'm happy to report that we both have shining, clean and healthy teeth. Yay!
7. My kids break everything. Recently they've broken the xbox... which will cost at LEAST $60 to repair. How did they break it? Turning it on and off and opening and closing the tray. Jonas is hypnotized by the green light... "must...touch...it". Well, now... broken. 2 xbox remotes are also broken... chewed straight through. An xbox cable and a cable for the laptop have also been chewed on and now have exposed wires. A wireless mouse has been dropped repeatedly and now does not click. And the list can go on... but I'll stop there. Moral of the story? My kids need to keep their grimy hands off our stuff AND we need to learn how to put our stuff up.
8. I'm participating in the February Photo a Day challenge. Super fun! If you're not participating, you should. I post my pics to FB, twitter (@NicoleTableFor4) and instagram (Nicavesani). I'll also be updating my blog with the pictures every 10 days or so. Follow me and play along!
Until next Saturday... have a great weekend! Peace.