My bloggy friend, Stephanie, who blogs over at
Doyles Days
is raising money to donate to the March of Dimes.
March of Dimes is such an incredible organization that helps support parents with the medical costs associated with having premature babies, babies with medical conditions and needs and NICU needs. I remember that when each of my boys were in the NICU, the March of Dimes was there, donating blankets and hats. And I know they did so much more, but thankfully we never had to find out exactly what. This is such a worthy cause because ANY single one of us can have premature babies. You never know... look at me... I had TWO!
Stephanie has come up with a super clever way to raise money for this cause. She's putting her sewing skills behind it! Basically, for donating to the March of Dimes through
her blog link
, she'll send you a hand burp cloth, blanket or combo package!
For donating $12 you'll receive TWO burp clothes.
For donating $25 you'll receive a beautiful baby blanket.
And for donating $40 you'll receive BOTH the burp clothes AND the baby blanket!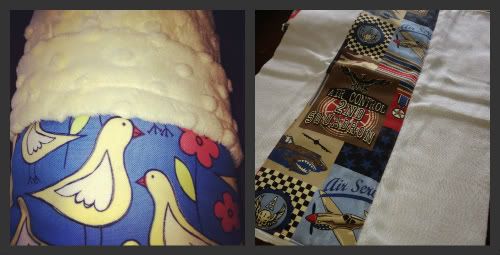 That's a great deal. Most of us will go to BabysRUs or Target and spend that much anyway... and all you're doing is putting more money into the company's pockets. If you do THIS instead, you know your money is actually going to a worthy cause.
She's only making the blankets for the first TEN donators and the burp clothes for the first TWENTY, so hurry and do it NOW!
Go to her page by clicking HERE
.
Or you can donate right here, right now!