You may remember I hosted my first Elaine's Crafts Giveaway late last year
. Recently, Elaine contacted me again and told me she had been working on some new designs and wanted to host yet ANOTHER giveaway!
Yes!
Elaine specializes in making custom signs for your home. She has a multitude of options up on her
Etsy Shop
for you to choose from, but she's not afraid of making something unique to fit exactly what you have in mind!
The last time she made me a sign, it was this cute one for Jonas. I loved it! I mean, really, how adorable is that for a little boys' room?!
This time, I asked her to make me a sign to adorn our new home. We are so excited to finally move in (in a few short weeks) and this will be the first thing I put up. I already know where it's going... above our kitchen door!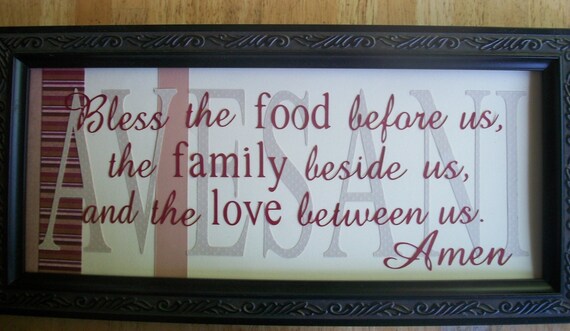 I found the saying on Pinterest and loved it so I asked her to incorporate it into the sign. Then, it was a pleasant surprise to see she had also included our last name to the background! So thoughtful and special!
And now, Elaine is even selling the accompanying frames to go along with your sign! So when it arrives in the mail, all you need is a nail! (totally didn't mean for that to rhyme). It's ready to go... no need to go to the store and try to find the perfect fitting frame... she's got you covered!
I have really loved working with Elaine, as she is so gracious and thoughtful. She really takes time with each piece to make it perfect for her clients. I have been over-the-top happy with her work!
Go ahead and visit her Etsy shop and tell her what you'd like!
http://www.etsy.com/shop/ElainesCrafts
Or you can find her shop through her Sponsor button on my side bar.
And Now...
It's Time...
For A...
GIVEAWAY!!!
Elaine has offered one lucky winner a custom sign of their choice!
Winner will be announced on Friday, August 17.
a Rafflecopter giveaway